How Your Plan Works with Coronavirus
How Your Plan Works with Coronavirus
For the most part, your coverage for coronavirus testing and treatment is the same as for other illnesses. As the situation changes, we'll add services or benefits that help you stay safe, like free medication delivery and early refills. Here are the details.
Testing
There are two types of tests for coronavirus.
Diagnostic tests tell you if you currently have the virus that causes COVID-19. They're done with a nose or throat swab.
Antibody tests tell you if you already had the virus that causes COVID-19. Your body makes antibodies to fight viruses and other germs. These tests use a blood sample to check if you have the kind of antibodies that fight COVID-19. You'd only have them if you already had the virus.
Here's what your plan covers starting September 2, 2020.
As long as a provider orders one of these tests for you, your plan will cover it. And you won't have a copay while there's a state of emergency.
Your plan will also cover one diagnostic test that you get on your own without a provider's order. And you won't have a copay for this test while there's a state of emergency. If you get any other coronavirus tests, get a provider's order first so you can make sure your plan will cover it.
Before getting a home test, be sure it's FDA authorized.
If you buy a test to give yourself at home, you're covered only for tests that have received Emergency Use Authorization by the FDA. It's important that you use an FDA-authorized test because you'll get the most accurate results. Be sure to work with your doctor to understand what your results mean for you.
A note about online scheduling with CVS Minute Clinic.
Also, a quick note in case you decide to schedule a test with CVS Minute Clinic. On the last step of their website sign-up, you have to enter your insurance company. Devoted Health isn't in their list, so just enter "Other" and you'll be able to choose "Other/Insurance Not Listed" as shown here: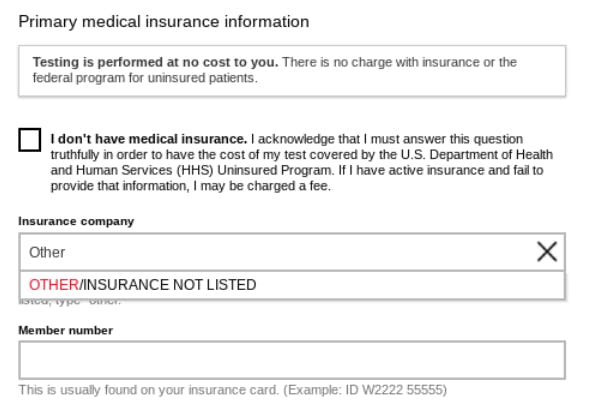 Then, just fill out the rest of the form. When you go for the test, make sure to bring your Devoted Health member ID card with you.
Telemedicine and Treatment
To help prevent the spread of coronavirus, many doctors are using telemedicine — visits by phone or online video — so you don't have to go to their office. You're covered for these visits and they won't cost you anything (we're currently waiving the normal copay).
For other care, your plan's standard rules, costs, and coverage all apply to coronavirus. So, you're covered for doctor visits, hospital stays, and other care with the same costs that you have for other conditions.
Note that there's no vaccine for coronavirus. If one gets developed, your plan will cover it.
Medications and Refills
Make sure you have enough medication at home.
Check your prescriptions to see if you're about to run out of anything. All of our members can now get early refills of their medications, if needed.
Let CVS deliver your medications.
For the time being, your local CVS will mail your medications to you for free so you can stay home. You'll receive your prescriptions within 1-2 days. To request this service:
Call your local CVS and talk to a pharmacist
Use the CVS Pharmacy app and select your delivery option
Use the link in the "order ready" text message you get from the pharmacy (if you signed up to get text notifications)
Learn more about CVS medication delivery.
You might also want to sign up for mail-order pharmacy. This free service comes with your plan. When you use it, you get a 90-day supply of your medications, which will help you stock up. Plus, you'll get free delivery right to your house. Register for mail order.
---
Stay home, stay healthy
Find out how to protect yourself — and how we can help
---
Get the facts
Understand what coronavirus is, how it spreads, and more